Straight out of the kitchen, Making Dinner is an all-female San Francisco favorite that has been labeled indie, folk, and pop. Making Dinner takes over the stage the way the smell of cookies baking takes over a kitchen.
"It was like all of the ingredients finally stirred themselves together, and, well, dinner was served!" Eva Jo reminisces.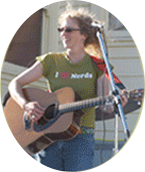 Eva Jo Meyers – Vocals, Guitar
Eva Jo Meyers recorded her first full length album in 2001 in Thailand, with Bangkok-based indie punk rockers, Sepia. Making Dinner is the fourth band she's fronted. "I've been writing songs, literally, since I was six years old, and have been in one band or another since the 7th grade". Meyers, who writes all the band's songs, says "We've got a set list of catchy songs, but what really counts is that we have this great chemistry. Our goal is to have fun, and it's contagious."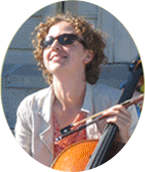 The singer/songwriter had known cellist, Marianka Madey, since the two were in kindergarten. "If you had told Marianka, at the age of six, that someday she'd play in a band, she would have run away shrieking. This was a girl that was the first cellist in the Empire State Youth Orchestra. She barely even knew who the Beatles were." But play in a band she does.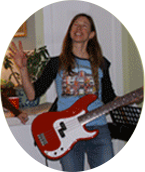 Katie Pilat, the band's bassist, came by way of a new year's resolution. "I got the bass as a birthday present years ago, and then got a job and the bass went under the bed," Katie recalls. "But last year my resolution was to call up Eva Jo to see if she wanted to jam." "The first night as I arrived at Katie's I was feeling exhausted from the day, but the session was so great, I left exhilarated," Eva admits. "Katie has this amazing talent, she's the effervescence in a song. She makes things float".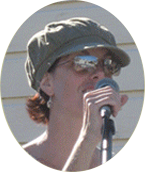 Devorah Rosner – Vocals, Percussion
Both Devorah Rosner (back-up vocals and persussion) and Marianka had already been playing out with Eva Jo, and were both working on her new album at Goldfinger Studios in Novato, CA. "Devorah has this voice like melted butter and has been on stage her whole life, so when I told her we were ready to play, we were all pretty excited."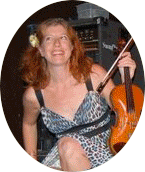 Katie Crouch joined the band in July 2008 when her friend and former Making Dinner violinist Genevieve Coyle left the band to go back to school. 100% classically trained, Katie C. is plugged in for the first time and enjoying the freedom of making up her own music. "I was excited to try a new type of violin playing," she gushes, "and at the first rehearsal, I felt like everything clicked."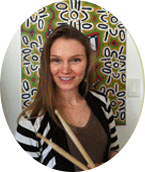 Sarah Wininger, the newest member of Making Dinner, became the band's drummer in 2013, replacing Zarah Gamaldi. From the beginning Sarah's motto has been, "Sure, I can do that." She used it for the first time when Eva Jo introduced herself as a new neighbor and promptly asked Sarah to join the band. Sarah had always wanted to play in a band, but never imagined it would be as a drummer. She wasted no time in learning the drums and loves playing with the band!